About Us
Our Approach and our Trainers
To talk to Frank Daniels in person, please get in touch by telephoning 0845 226 9088 or 01773 857678 or by email today.
Our Approach
Of the various ways in which NLP can be taught, each offers certain qualities. Our approach, however, has always been eclectic. You will benefit from a programme that combines the best of several different styles of NLP into one comprehensive training. We draw on personal contact with most of the developers of NLP and thus are not limited to one 'school'. You will benefit from an integrated combination of the best of several different styles of NLP into a very comprehensive programme. We also draw on a wide diversity of backgrounds, professionally and in complementary fields of communication and personal development, to be able to offer you a rich and deep appreciation and understanding of NLP and its potential.
We believe in what we do and in doing what we teach. We emphasise and encourage:
practical personal application of NLP

and

personal integration and congruence t

hat

produces

high quality effectiveness in implementing NLP in the world

.
The framework of the training provides rich opportunities for learning about and developing yourself and for practising how you will apply what you learn in your daily life.
"The ethics and attitude of the trainers and assistants were totally impeccable - beyond question a total credit to NLP."
Martin Clarke, Sales
"The trainers skills were excellent again. I felt that I could approach them with queries and questions and know that I would be made welcome to air my view. I especially like the relaxed atmosphere that allowed me to make mistakes without feeling foolish."
Tom Catlin, FE Teacher
"Frank, your ethical approach was the key to the success of the course for me."
Max Norris,
Management Trainer
"I cannot speak too highly of lecturer and assistants. Great Course."
Rudy Vandele, Salesman
"I found the seminar extremely beneficial and more so as the learning sinks in! [Frank] Your particular 'comfortable' style combined with your humour suits my learning perfectly."
Amrik Gill

Summary of benefits of training with us:
Reliability and experience - we are one of Britain's longest established NLP providers having been training NLP since 1990. We are also a member of INLPTA, the International NLP Trainers Association, and The Professional Guild of NLP

Small group size (usually maximum 20) for personal attention and individual coaching

Respect and integrity - not only in the training, but also in how you learn to use NLP

Emphasis on practical application and tangible, lasting results

Superb value-for-money
Money-back guarantee
Introduction
We at Frank Daniels Associates have been offering a variety of trainings in personal and professional development and one-to-one coaching since 1987. We offer courses open to the public and run trainings and provide Coaching for organisations and businesses in-house.
Our aim is to facilitate people in developing their potential, to be their best, through superb training in an ethical and caring manner.
We have found NLP to be the most successful, elegant and encompassing model for people to enhance their lives, and by having been training NLP since 1990 we are one of Britain's longest established NLP Training organisations.
We love what we do and our own facination with NLP and belief in its value sustains our dedication to excellence.
Quality Training
We are committed to providing our participants with tangible and lasting results in increasing the quality of their lives, by means of superb training. We believe an indication of our success in providing this is the fact that the majority of our participants decide to attend our training due to word of mouth recommendations from previous satisfied participants. If you have not yet met someone who has taken some of our training, our short courses provide an ideal way to sample what we offer.
As all of our courses are backed by our 100% money-back guarantee of satisfaction, you can book with confidence.
Style of Training
Our trainings are friendly, caring, down to earth, light-hearted, inspiring and filled with humour (and these are not just our words!) and are presented with a dedication to excellence.
The 'teaching' consists of a rich mixture of informal presentations, demonstrations, lots of different small group exercises, feedback, question and answer sessions and individual coaching from the trainers and training assistants, with emphasis on experiential learning. A comprehensive manual supports you throughout each course and becomes a valuable reference for you afterwards.
The NLP approach to communication is used throughout, supplemented by complementary fields such as Accelerated Learning with the use of peripheral visuals, music, group interaction and Brain Gym exercises. This helps you to enjoy yourself and makes learning so many things easy.
Money-Back Guarantee
We are confident of the quality of our training and the value you can gain from our courses. If after completing a short course (the NLP Core Skills Seminar, the NLP Diploma Course, The Language of Influence, Master Your Life) or after completing the first six days of the Practitioner or Master Practitioner course you were to be dissatisfied, let us know within 30 days (or before the next module if earlier) and we will refund all monies paid in full.
Frank Daniels
Our main trainer is Frank Daniels, director of Frank Daniels Associates, Certified NLP Trainer (INLPTA). Frank involved himself with NLP in 1987 after training as a Hypnotherapist. He trained in NLP with both founders (Bandler and Grinder) as well as with many of the initial developers such as Dilts, Andreas and Hall. He has been training NLP since 1990, was Trainer certified in 1994 and attended INLPTA NLP Master Trainer Training in 1998. He is also a certified Words That Change Minds LAB Profile Trainer/ Consultant, Meta-States Practitioner and Coach (through Erickson College).
In addition to training public courses he trains NLP 'in-house' for various companies and organisations, presents at conferences, and still sees a few clients each week for individual Coaching and NLP Psychotherapy/ Hypnotherapy (UKCP registered NLP Psychotherapist).
Beyond the obvious competence and expertise that experience implies, Frank is known for his caring and playful attitude and for his integrity.
Frank Daniels is the lead trainer for all our open courses and where we have additional trainers (NLP Practitioner and Master Practitioner courses) his presence throughout ensures continuity.
Other trainers who have worked with us include Michael Neill, Katrina Patterson, Geoff Dowel, Shelle Rose Charvet, L. Michael Hall and Julie Starr.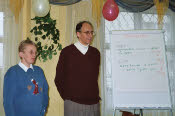 Frank & Translator in Kiev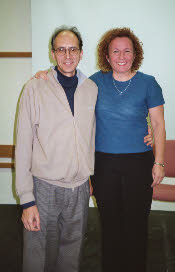 Frank & Shelle Rose Charvet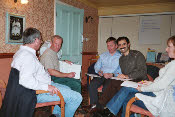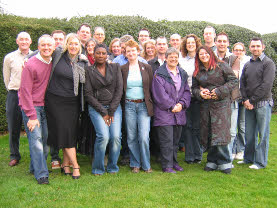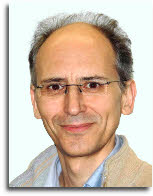 Contact:
Tel: 01773 857678